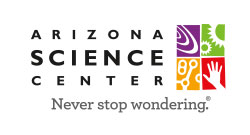 The Arizona Science and Engineering Fair is looking for enthusiastic and knowledgeable judges to encourage elementary, middle, and high school student researchers from across the state!
Judging will take place on April 7, 2016, from 7:30 am – 5:00 pm, at the Phoenix Convention Center.
Breakfast, lunch and training are provided; no previous judging experience required. We do ask that judges have a minimum 2 years of college or a degree in any field. There is a high need for judges with advanced degrees and experience to judge in the senior division. Register online here.
Never judged before and want training? Interested in taking a refresher course before this year's fair? You are in luck! Arizona Science Center will be hosting three optional judge trainings prior to the fair: March 16, 5:30–8 pm;  March 26, 9:30 am –12 pm; and March 26, 1:30–4 pm.