Announcing Our New Jobs Forum!
AHS has added a new service for members who are seeking jobs. Now you can upload a resume, along with a short bio and contact info, for potential employers to peruse. Employers who are looking to hire are still welcome to submit jobs for our Jobs Listing page.
Not a member? Consider joining so you can take advantage of this service and many other benefits, including our monthly newsletter, meeting reminders, event discounts, and more. Click here to sign up.
Save the Date for the 2017 AHS Symposium!
Visit the Symposium web site for breaking news — we'll be updating it frequently. You can also check out our Facebook events page.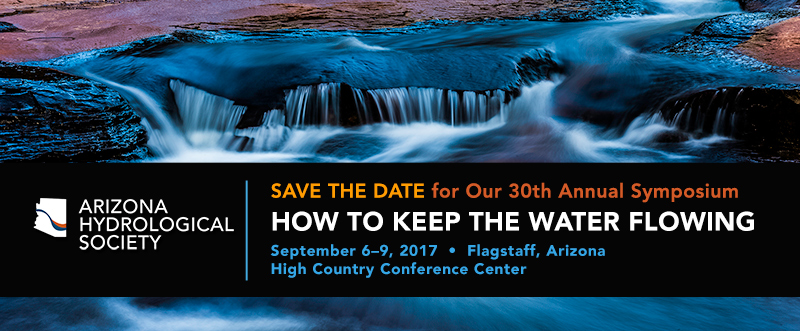 Chapter Meetings
AHS has three local chapters that hold meetings and events:
Our Mission
Formed in 1985, AHS is a nonprofit organization dedicated to advancing hydrology and water resources research, planning, and development. We not only provide an open forum for professionals to exchange information, but we also support public understanding, education, and training in the science and technology of hydrology and water resources. An important part of AHS' mission is promoting the responsible use, management, and preservation of water resources in the arid Southwest. AHS is also dedicated to helping establish standards for the practice of hydrology as a profession. To support these goals, AHS funds meetings, scholarships, grants, symposia, and other outreach and (or) educational activities.
News from AHS