The AZGS has published the following report, which contains supporting maps, cross sections, and GIS data:
Gootee, B.F., Cook, J.P., Young, J.A. and Pearthree, P.A., 2017, Subsurface hydrogeologic investigation of the Superstition Vistas Planning Area, Maricopa, and Pinal Counties, Arizona. Arizona Geological Survey Special Paper 11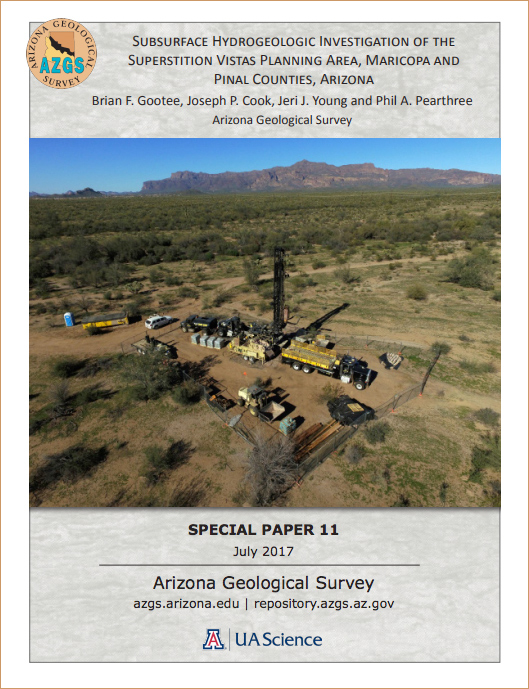 This hydrogeologic report describes a Phase-II study to investigate and characterize groundwater resources in the southeastern East Salt River Valley (ESRV) area, referred to as the Superstition Vistas Planning Area (SVPA), located primarily in the Phoenix AMA and a small portion of the Pinal AMA in northern Pinal County. This study follows a Phase-I reconnaissance study conducted by SRP during 2013 and 2014, which initially set out to estimate groundwater storage and determine geologic and hydrogeologic characteristics in SVPA.
The main objectives of this study were to define hydrogeologic unit and boundary conditions, determine aquifer characteristics, and establish baseline water quality for sustainable groundwater supply and recharge potential. New subsurface data were collected through drilling, seismic analysis and aquifer testing in SVPA. Tasks to analyze and interpret drilling and seismic data were performed by AZGS, in partnership with SRP. AZGS subcontracted with the UA's Reflection Seismology Research Group to complete processing, calibration and analysis of vintage seismic data. This investigation was funded by SRP, ADWR, and Resolution Copper (RC) with in-kind contributions from the Arizona State Land Department (ASLD) and Arizona Water Company (AWC) and with technical support from regional stakeholders, participating agencies and water planners collectively referred to as the Technical Working Group. The Technical Working Group consisted of SRP, ASLD, ADWR, AZGS, AWC, U.S. Bureau of Reclamation, and RC.
A total of six exploratory borings were drilled in SVPA during 2016. One of the borings was developed into a 12-inch diameter well used to conduct aquifer testing in a previously untested area. Each exploratory boring was logged using a variety of geophysical survey tools to characterize lithology, mineralogy, particle-size distribution and geophysical character. Designation of alluvial unit boundaries were also made following these analyses. These new borings represent the most thorough analysis of the subsurface geology in SVPA to date. All data were used to compile depth-to-unit boundaries and isopach maps for the Upper Alluvial Unit (UAU), Middle Alluvial Unit (MAU), and Lower Alluvial Unit (LAU). The UA seismic reflection group processed six new vintage seismic reflection lines that crisscross SVPA, calibrated from four of the borings. The application of seismic reflection imagery in this study was especially useful and improved the structure and geometry of bedrock in many, but not all areas of SVPA. Aquifer testing and zonal water quality sampling was conducted at Test Well B2a in a previously untested area. Aquifer testing was also performed at one ASLD well and two AWC wells.
To download the report and supporting information, click here.