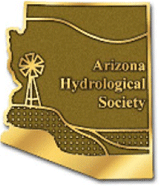 The AHS-Flagstaff chapter had some brass pins made for the 2014 AIPG & AHS national conference held in September 2014 in Prescott. A minimum donation of $6 is requested to help cover the costs of the 2015 Charles C. Avery Intern Scholarship.
Some of these 1 1/2-inch-high pins remain available for purchase and were given to John Villinski (Tucson) and Christie O'Day (Phoenix) who volunteered to sell the pins in their respective chapters.
The pin looks good on hats, backpacks, etc., and shows people that you are a member of AHS.