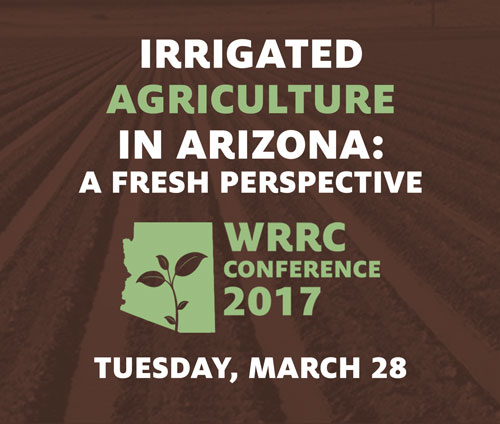 Registration for the 2017 WRRC Conference, Irrigated Agriculture in Arizona: A Fresh Perspective, is now open. Register now at an early bird cost of only $95! Join us as we debate current challenges faced by agricultural water users in Arizona, and discuss the advances being made in agricultural technologies to address these challenges. Registration also includes a screening and panel discussion of the documentary Groundwater: To Enact a Law for the Common Good, covering the actions of forward-thinking policy makers in enacting the 1980 Groundwater Management Act.
For a full agenda and registration, click here
Do you have an exciting project to share? Create a WRRC Conference poster to share your message with elected officials, water municipalities, and water users from throughout the region. Students who submit a poster abstract will be entered into the 2017 Poster Contest with exciting cash prizes!
The submission site for poster abstracts is open from now until February 21.
For more information, and to submit your abstract, click here