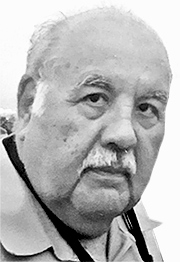 AHS is sad to announce the passing of Herb Schumann, our 2002 Lifetime Achievement Award winner. Herb was 79. He passed away peacefully on October 16, 2017.
A well known hydrologist in the Southwest, Herb was born on June 3, 1938, in Flagstaff and raised in northeastern Arizona. He was a proud alumni of the St. Michael's Indian School, where he graduated in 1956. Herb graduated from UA in 1961, with a bachelor of science in geology, and he received his master's in watershed management from UA in 1967. He worked for the USGS from 1960 until his retirement in 1996. He authored and co-authored over 50 technical articles, reports, and book publications on groundwater-related topics. During the 1960s, Herb investigated water resources on the Navajo and Hopi Reservations, working with people like Maurice Cooley, Leonard Halpenny, John Harshbarger, H. Babcock, and Charles Theis. He was a pioneer in the study land subsidence in Arizona who shared his stories and expertise with the community,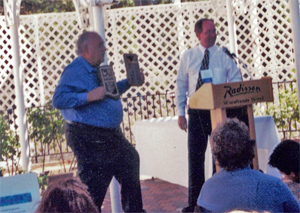 After retirement, he opened H.H. Schumann & Associates as a consultant, specializing in water resource, water supply, water rights, land subsidence, earth fissure, and land subsidence investigations.
An avid outdoorsman, Herb enjoyed hunting, fishing, photography, flying airplanes, being active in scouting with his children, and spending time with his family. Funeral services were held on October 20.
Check back for more updates on Herb's passing.