—Alan Dulaney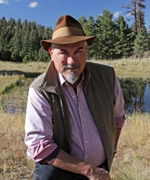 There is something important on the ballot this November, and I am not talking about the hot, stinking mess at the top. The Central Arizona Water Conservation District is electing five members of its Board of Directors, all from Maricopa County (Pima and Pinal County voters will have their turn next election cycle). CAWCD runs the CAP canal, although the canal and its water are actually owned by the United States. CAP water is vital to the economies of the three-county service area. System stresses are mounting. The imbalance between inflows into Lake Mead from Lake Powell — the thoroughly discussed "structural deficit" — is matched by a similar imbalance between financial income and projected expenditures. Negotiations continue between the United States and California, Nevada, and Arizona on the Drought Contingency Plan. Within Arizona, negotiations are moving a bit more slowly amongst the major sectors of agriculture, municipal/industrial, and tribal entities. And that canal is getting old; major repairs could be needed soon.
Ten candidates are running for five open seats on the 15-member Board. This is a little-noticed, almost unseen race, with no TV spots or huge rallies. Yet we must pay attention to who will be running the CAWCD. These unpaid positions are important. The issues faced by CAWCD are ratcheting up in intensity and will require careful consideration and decision-making by the Board of Directors if Arizona's economy and water future — that intertwined double helix — are to thrive.
AHS offers no endorsements or evaluations of the candidates. It is incumbent on all Maricopa County voters to look at each candidate and pick five who can guide CAWCD through the next 6 years. The positions are supposed to be nonpartisan but several candidates are puffing up their party affiliations. Ideally, the voters will select five people who are knowledgeable about water issues, and who have the experience and expertise to guide the Board through potentially rough times ahead. Most definitely those who are already knowledgeable on water — that would be the AHS membership — should be ready when asked to offer their own opinions on who to vote for on November 8 for the CAWCD Board. Make the election less invisible, and then vote!