— Alan Dulaney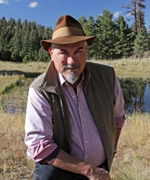 "Arizona is so dry the trees chase the dogs."
Senator John McCain fired off that relevant one-liner in a speech at the recent Arizona Water Reuse Conference in Flagstaff. Then he got serious about water and the future of the Southwest. He noted that the San Pedro and Verde Rivers could go dry before 2099. Drawing lines of responsibility, he said that the Federal government plays a role in determining when water issues reach the regional or national level. He didn't discuss the Colorado River, however, except to note that Senator Jeff Flake's legislative proposals had led to a recent letter from the Bureau of Reclamation. This letter recognized that the 165,000 acre-feet of water left in Lake Mead by Arizona as a conservation measure should not go to California but should remain in the lake. He talked about achieving a Navajo-Hopi water rights settlement in the Little Colorado adjudications process, one of the last remaining big settlements. He talked about water reuse in Indian water rights settlements, and the importance of that source in achieving success. Then he spoke of Cochise County and the Verde Valley and how reclaimed water could help in those areas. Direct potable reuse is coming, but education and proper messaging remain key to public acceptance.
Senator McCain also addressed the issues facing the Four Forest Restoration Initiative (4FRI). The thinning projects are not going well, despite several areas that are already NEPA compliant. Difficulties with contractors have arisen. Commercial operations are needed as tax dollars cannot carry the whole load. Within the last decade, over 20% of northern Arizona's Ponderosa pine forests have burned in uncharacteristically severe fires — all occurring within the Salt River Project watershed. Yet another set of catastrophic fires like Rodeo-Chediski or Wallow could push the forest over the edge — and that is the water source for much of the Phoenix area.
SRP and the U.S. Forest Service recognize the need to restore forests to predevelopment conditions to curtail the possibilities of more uncharacteristic fires and resultant watershed damage. The Northern Arizona Forest Fund is a public-private partnership designed to fund and implement projects to restore watersheds in the SRP watershed area of 8.5 million acres. The Phoenix Chapter recently held a fund-raising event for the NAFF at the San Tan Brewery in Chandler. NAFF is a parallel to 4FRI but slightly different — and a much smaller approach to actually do something about restoration of the pine forests. Spencer Plumb talked about the various projects that are underway. Specific projects can be implemented in specific areas, but need funding. If you wish to make a donation to NAFF, go to www.nationalforests.org/donate/naff. It's a worthy cause.