—Alan Dulaney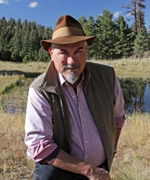 Sometimes we need to remember our roots. Arizona is a leader in water management because diverse interests came together in the late 1970s to address the problem of groundwater overdraft. Prospects for building the CAP looked grim. Politicians, lawyers for agriculture and the mines, City representatives, and SRP sat down and talked about what it would take to preserve Arizona's water future and economic viability. Legislative leaders rammed it through, and the result was the Groundwater Management Act of 1980.
That was over 35 years ago, and many of those people are no longer alive. Lest all traces of those tumultuous talks fade away forever, it was suggested that someone make a movie and record the collective memory of living participants. So Kathy Ferris, Executive Director of the Arizona Municipal Water Users Association, and Michael Schiffer, experienced Hollywood writer-producer, decided to make a half-hour documentary. It premiered to an audience of almost 250 people on October 28.
Groundwater: To Enact a Law for the Common Good lays out what it took to bring everyone to the table to cut a deal. At first, few interests were willing to give up what they thought was theirs forever. Agriculture resisted the most, but when the farmers realized that the threat was not going away, the necessity for some sort of regulatory structure was accepted. In marathon sessions over 6 months, the basic tenets of the most far-reaching water management law in the entire country were hammered out. Compromises were made by people who had never compromised in their lives. One thing that was nearly scrapped was the Assured Water Supply language for subdivisions. Only a dramatic plea by its youthful proponent, Kathy Ferris, saved the concept from the bone yard. And now it is one of the most important programs at ADWR.
The threat hanging over everyone's head was that the federal government wouldn't build the CAP unless some sort of water management law was passed. Everyone was worried because the Carter administration was famous for proposing shutdowns of Western water projects to balance the budget. Interestingly, former Governor Bruce Babbitt admitted that it was all a ruse cooked up by himself and the Secretary of the Interior, Cecil Andrus. Babbitt needed a big stick to leverage compromises. Yet, the suspicion lingers that the Secretary wasn't entirely kidding.
Because the GMA was passed in 1980, Arizona is better off in 2015. Unlike California and Texas, we did not suffer water shortages in the current drought because we planned ahead. Groundwater is secure as a source because 35 years ago we controlled its use and withdrawal in a law for the common good. It worked. And that is a proper and rightful function of government.
Check this site again in the future to learn about showings of this film.