The Groundwater Resources Association of California and AHS are pleased to announce that Dr. Mario Lluria will receive the 2nd Herman Bouwer Award.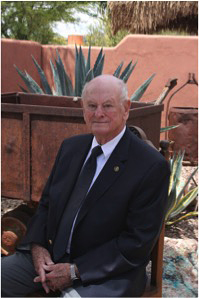 Established in 2014, the Herman Bouwer Award is given every 2 years at BSMAR, the Biennel Symposium on Managed Aquifer Recharge, to the person or agency that has significantly advanced the understanding or use of managed aquifer recharge (MAR). (This year, BSMAR15 has been combined with ISMAR 9.) The award was created to honor the legacy of the late Dr. Herman Bouwer, one of the world's leading researchers in water resources management, particularly MAR. Bouwer's achievements included authoring more than 300 publications, serving on several U.S. National Academy of Sciences National Research Council committees, consulting on numerous recharge projects, and receiving an Organization for Economic Co-operation and Development (OECD) Fellowship in 1964 for studying recharge in The Netherlands and Germany. He also presented many seminars and short courses on MAR in the U.S., India, Jordan, Tunisia, and Morocco.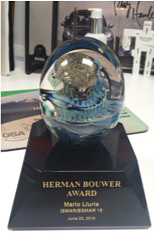 Dr. Lluria was chosen for the award because of his long commitment to fostering and developing groundwater recharge, one of Dr. Bouwer's key contributions to the profession of hydrogeology. He has practiced hydrogeology for 46 years as both a consultant and a project manager for major industrial and utility companies. He received his B.S. in geology and geophysics from the Massachusetts Institute of Technology in 1963; completed his doctorate in Chemistry from the University of Havana (1965), Cuba; and did postdoctoral work in hydrochemistry at the University of Sevilla, Spain (1969).
Dr. Lluria will receive the award at a special luncheon on June 22 at ISMAR 9, which will be held in Mexico City this year. More information about ISMAR9 and and the Herman Bouwer Awards lunch can be found online. BSMAR 16 will be held in 2018 in California.
Dr. Mario Lluria Bio
Dr. Lluria began his career in Spain working as a senior geologist at the consulting firm Geotécnica, S.A., in Madrid, where he was in charge of a regional office. In 1968, he joined Exxon as a senior geologist exploring for mineral deposits throughout the U.S. While at Exxon, Dr. Lluria was involved in the discovery of two world-class mineral deposits: the Cumberland zinc deposit in Tennessee and the Crandon deposit in Wisconsin. He worked at Exxon until 1984, conducting research and development of a hydrogeochemical technique that was used successfully to discover deeply buried metallic ore deposits.
In 1984, Dr. Lluria moved to Phoenix to join the firm Cella Barr Associates as a senior project hydrologist, where he developed groundwater supplies. He managed the City of Phoenix's Cave Creek Recharge Project — the first ASR well in Arizona. In 1986, Dr. Lluria joined Boyle Engineering, where he continued his involvement in recharge projects. At Boyle, he served as a consultant in development of the City of Scottsdale's groundwater recharge master plan and directed the preparation of the City's grant proposal for the High Plains Groundwater Demonstration Act. This work paved the way for Scottsdale to develop its Water Campus treatment and MAR facility.
In 1990, Dr. Lluria joined Salt River Project, where he provided technical direction for groundwater exploration, monitoring, and development projects; groundwater and soil contamination studies; and the planning, designing, permitting, construction, and operation of groundwater recharge facilities. Most notably, he managed the Granite Reef Underground Storage Project (GRUSP) and the New River Aqua Fria Underground Storage Project (NAUSP) — large spreading basins designed to recharge surface water from the Salt/Verde River system and the Colorado River, respectively. Dr. Lluria, in cooperation with the Industrial Technology Department of ASU, developed a wellhead treatment system that would allow the recharge of raw irrigation canal water.
More recently, Dr. Lluria joined the consulting firm HydroSystems, Inc., in Phoenix where he serves as senior hydrogeologist and has continued his involvement with MAR projects such as the Silver Reef development owned by the Walton Development and Management Company. He led a recharge study for the City of Scottsdale's Water Campus where he evaluated 10 years of performance data on 27 standard vadose zone recharge wells. Lluria used this data to determine the number of new wells needed for plant expansion. His recommendations resulted in 28 additional vadose zone wells designated for emergency use to be converted to normal recharge operations.
Finally, Dr. Lluria has participated in many conferences and symposia, both in Arizona and around the world, where he has contributed papers and talks on many subjects, especially MAR. His expertise and leadership have contributed to the advancement of groundwater recharge both in Arizona and internationally. It is fitting that Dr. Lluria should receive the Herman Bouwer Award at ISMAR9 in Mexico City since he has such strong personal connections to Spanish language speakers.
"Mario is a true leader and I have had the pleasure of knowing and working with him for over 30 years. I first met Mario in 1985 when he served as a panel member for Arizona's 2nd Groundwater Recharge Symposium sponsored by the Salt River Project. Since then, Mario has become recognized as an expert in groundwater recharge. I congratulate Dr. Mario Lluria for a job well done. — Gary Small, Presdient, HydroSystems, Inc.