AHS helps support a biannual recharge symposium.
AHS has teamed with the Groundwater Resources Association (GRA) of California to produce a biannual recharge conference, BSMAR (Biannual Symposium on Managed Aquifer Recharge).
The next BSMAR conference will be held in conjunction with ISMAR9 (International Symposium on Managed Aquifer Recharge), in Mexico City in 2016, from June 20–24. Planning is currently underway for this event; stay tuned for updates. After the 2016 conference, BSMAR locations will alternate between California (in 2018) and Arizona (2020).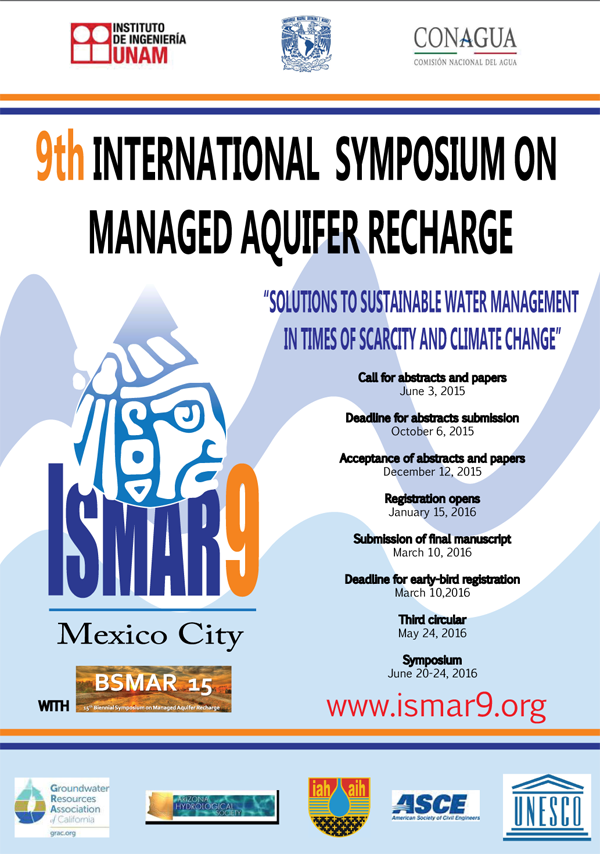 Tentative schedule for ISMAR9
Call for abstracts and papers: June 3, 2015
Deadline for submitting abstracts: October 6, 2015
Acceptance of abstracts and papers: December 12, 2015
Registration opens: January 15, 2016
Submission of final manuscript: March 10, 2016
Deadline for early-bird registration: March 10, 2016
Past conferences have been held in Anaheim, California; Orlando, Florida; Amsterdam, The Netherlands; Adelaide, Australia; Berlin, Germany; Phoenix, Arizona; Beijing, China; and Abu Dhabi, UAE. Themes have included integrated water management, groundwater governance, regulation and management, economics, water quality, operational matters, monitoring and modeling, water reclamation technologies for MAR, alternative recharge systems, adaptation to climate change, MAR and land subsidence, and aquifer thermal energy storage.