Tempe Town Lake Dam Replacement Project Update
Oct. 26, 2015
Media contact: Nikki Ripley, 480-313-8850
For other questions, email: TownLake@tempe.gov
Tempe, AZ – The City of Tempe is today providing updates on the incredible progress that is being made on the installation of the new western dam at Town Lake, which will preserve this amazing, 2-mile economic engine and recreation haven for decades to come.
Construction is nearing completion on installing eight hinged steel gates, which will open as necessary in the future to allow water to flow down the Salt River past Town Lake. Work on the new dam — the largest of its kind in the United States and perhaps beyond — will finish in approximately February or March, depending on winter storm activity. It began in June 2014.
At that point, Town Lake's water will be temporarily moved and most of it will be diverted for use by other Salt River Project customers for urban irrigation. This will allow access for crews to remove the former dam structure. The lake could be refilled — mostly using exchange credits from SRP — and reopened about one month after the water is diverted.
The City knows how much Tempe Town Lake is loved and used by residents and visitors, and that spring is such a beautiful time at the lake. But Tempe asks for patience as this complicated work is completed and the lake is once again back in business for the long term. The new steel gate dam has a predicted lifespan of at least 50 years.
Town Lake has proven to be an economic engine for the city, with more than $1 billion in estimated capital investment in the area since its opening in 1999. It is reportedly the second-most visited tourist attraction in Arizona behind the Grand Canyon.
The businesses and full-time residents around the lake would not be there if Tempe residents had not invested in this amenity. The ASU Athletic Facilities District, Hayden Ferry Lakeside and the State Farm project – along with many others around the lake – are very visible signs that the investment has been worth the return already.
Tempe and SRP are working together to ensure that most of the lake water is reused. This was an important goal for the city, which prides itself on sustainable practices. When the water level is low enough, the city will use the opportunity to check lake infrastructure and make repairs as necessary.
The city is being responsible in managing the fish population. Sport fish will not be restocked this fall, as it usually is. Tempe will partner with Arizona Game & Fish to communicate with anglers and eliminate fishing limits during this time. Most fish will flow into the SRP canal system when diversion begins. The city will work with its mosquito expert to ensure extra mosquito monitoring and controls during this time. Visitors must stay out of the lake bed during the water moving and refilling.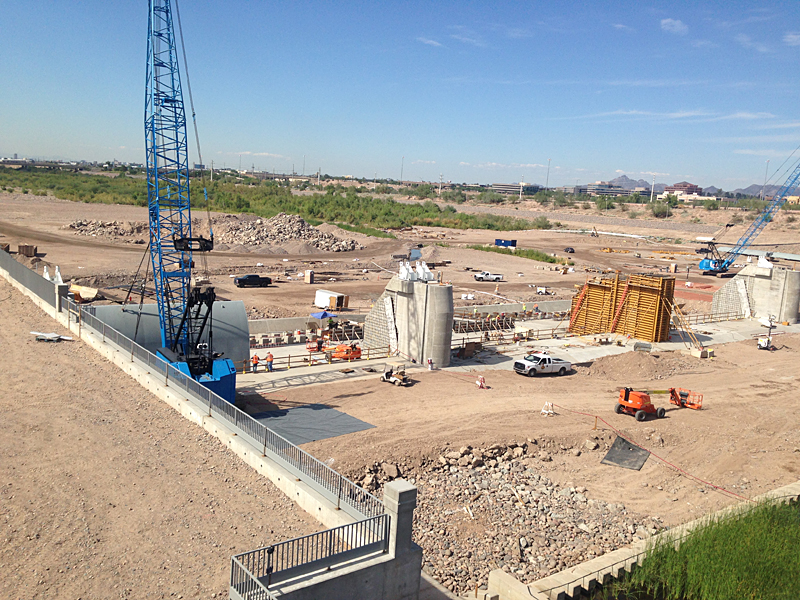 Events at Tempe Beach Park will not be impacted, nor will events at the linear parks around the lake. A handful of boating events and splash-and-dash events will need to be rescheduled. Rowing classes and clubs will be postponed. The Pedestrian Bridge is expected to remain open.
Tempe's new western dam is an unprecedented engineering feat locally and beyond, with eight steel gates, each 106 feet wide, 17 feet high and 232,000 pounds. They are being placed in a new concrete foundation structure that is 100 feet west of the original western dam. Total project cost is estimated to be $47 million.
Steel is a safe, durable and reliable choice to ensure that Tempe Town Lake stays the terrific asset that it is. The city has experts working on this project, from in-house engineers to nationally known dam designers, steel manufacturers and contractors. Partners such as the U.S. Army Corps of Engineers, ADWR, Maricopa County Flood Control, and more are evaluating and permitting this project.
Project details are at www.tempe.gov/damreplacement. A safe viewing area is on the south bank near Tempe Center for the Arts. For questions, email townlake@tempe.gov or call 480-350-8846.