Here are two great opportunities for students seeking scholarships.
CAP Award for Research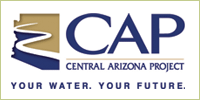 Application deadline: June 1 | Online application form
Research submitted for this award should focus specifically on water issues that affect Central and Southern Arizona and the Colorado River. Papers can focus on legal, economic, political, environmental, or water management issues, as well as any other issue that might be of interest to CAP or Arizona water users. First Place: $1,000; Second Place: $500. The scholarships be awarded at the 2017 AHS Symposium awards luncheon.
WaterReuse Arizona
Application deadline: June 15 | Download application
WateReuse Arizona will award two scholarships of $2,500 each to Arizona university and college students. The purpose of this award is to encourage full-time students with a focus on wastewater reclamation, water reuse, and/or desalination. The scholarships will be awarded in September 2017 at the Water Reuse National Symposium in Phoenix.