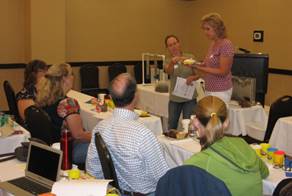 How can teachers get students interested in STEM (Science, Technology, Engineering, and Math) and develop critical thinking skills?  For a group of 20 teachers from the Prescott area attending the AHS-AIPG Symposium, it began with a basic understanding of geologic principles such as the Laws of Superposition and Cross Cutting Relations, a brief history of the Grand Canyon, and several colors of Play Doh!  With the necessary geologic principles presented by Gail Cordy (USGS, retired), groups of 2-3 teachers were given a challenge from the Project WET lesson called "Rock Sandwich Stone Soup"—using multiple colors of Play Doh, build a geologic landscape or cross section. Then, pass it on to another group to work out the relative sequence of geologic events (see photos).  Each group then presented to the class the sequence of events based on the geologic evidence they saw in the cross section.  Despite building some very complex geologic sections, most teachers were able to work out the sequence of events of their neighbor's cross section!
Next the teachers attended a Symposium session —"STEM Careers-Feeding the Stem Pipeline" — that was set up and moderated by Kerry Schwartz, Arizona Project WET Coordinator, and leader of the Teachers' Workshop.  Presentations from scientists such as Michael Conway, Arizona Geological Survey, introduced teachers to resources like the AGS' online STEM Broadcasting station and their complementary teaching tools atwww.arizonaexperience.org.  Mario Castenada described the opportunities for students in Gateway Community College's program for training hydrologic technicians to meet USGS job requirements. Kerry Schwartz explained that Project WET (Water Education for Teachers) resources can be used to teach cross cutting concepts in STEM as students measure and collect data and collaborate and communicate to solve real-world problems.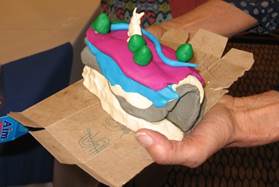 Lunch for the teachers continued the learning experience as they listened to Steven Reynolds, ASU, describe his studies of eye-tracking experiments and how we look at geologic photos.  The teachers had an assignment at lunch to talk to a scientist at their table about his/her career track and education and report back to the teachers. From this exercise, teachers got a sense of the broad range of careers and career tracks and the education needed for a scientific career.
To finish out the workshop, Kerry Schwartz used the groundwater cross-section model to illustrate a variety of hydrologic principles and introduce the teachers to Project WET lessons like "Get the Groundwater Picture" and "Springing into Action".  This workshop was financially supported by AHS, AIPG, and AHSF