Sustainable Water Resources in Iran: Tradition vs. Modernization
—by Marla Odom
At the June 2015 Tucson Chapter meeting, we were fortunate to have as our guest speaker Sattar Chavoshi, a Ph.D. in hydrology and an adjunct research fellow from the University of South Australia. The talk was attended by 20 people, primarily representatives from consulting firms, government agencies, public utilities, and students.
Mr. Chavoshi's briefly summarized the country of Iran. Although some areas are wet and lush, and 50 percent of the country is mountainous, Iran lies in an arid belt with unreliable precipitation, severe drought cycles, and water scarcity. The rapid rate of population growth has led to increasing water demand, which is beginning to tax the ancient system of acquiring and delivering water, known as a qanat.  Socio-economic problems throughout the country make it difficult to develop a sustainable water management system, and Iran faces numerous challenges, especially with climate change hitting the region hard.
Qanat (pronounced "kah-naht") is a management system used to provide a reliable source of water for drinking, cooling of residences, and irrigation. Qanats are constructed as hand-dug underground channels with a series of vertical shafts. They transport water from higher-elevation aquifers (usually alluvial fans occurring along fault lines) to lowlands, where cities and farms are located. Vertical shafts are sunk along the qanat to remove excavated material, provide repair access, and allow ventilation.  The delivery of the groundwater is completely gravity driven, removing the need for energy intensive pumping.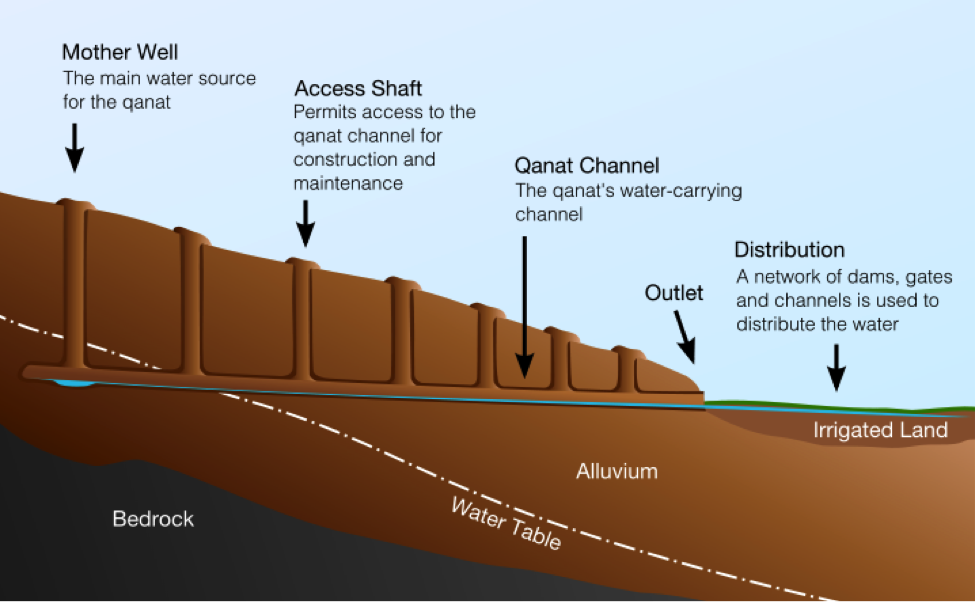 Qanats were developed on the Iranian Plateau around 700 BC. There are about 37,000 active qanats in Iran, which are delivering water from the approximately 35 billion cubic meters of groundwater stored in aquifers in the country. Zarch Qanat is the oldest (over 3000 years) and longest (80 kilometers) in Iran.
Some qanats have been abandoned because they are drying up, and disinterest by newer generations is keeping new qanats from being built. Qanats are further endangered by the additions of wells to the aquifer systems, population growth, and prolonged drought as a result of climate change. Adding to the overall problem is the lack of long-term planning for the sharing of water between wells and qanats; in addition, government actions protect the freedom to drill wells in aquifers shared by qanat systems.
There is a movement in Iran to adapt a sustainable policy for water management that includes effluent reclamation, water-saving projects, rehabilitation of existing qanats, desalinization of brackish water, and organizational change. Monitoring networks are being put into place, but data gathering is in its infancy.
Sattar Chavoshi Bio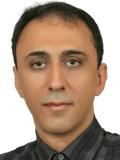 Sattar Chavoshi has over 22 years' experience in academia as a consultant and research scientist, both in urban and rural hydrology in Iran, Malaysia, Japan, and Australia. His career has covered the full range of environmental management from hydrology and water resources to watershed management, including all aspects of advanced techniques like soft computing — particularly fuzzy logic, artificial neural network and genetic algorithm, GIS and RS. As a research associate at the SA Water Centre for Water Management and Reuse, University of South Australia, he works on the national project of water sensitive urban design (WSUD). He was the head of Hydrology and Water Resources Unit at the Watershed Research Department in the Isfahan Research Centre for Agriculture and Natural Resources over 10 years. He runs several research projects mainly on hydrology modelling. He has published over 100 journal and conference papers and governmental reports.