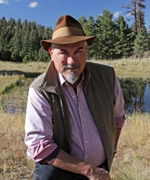 —Alan Dulaney
The Senate is busy with appointment confirmations, and the House is busy with the Federal budget. Agencies are being given tight not-to-exceed numbers within which they can budget, and many cuts are planned.
At the White House a few trends are emerging: There will be fewer rules and many more Executive Orders. On February 28, President Trump signed an Executive Order instructing the EPA and the Corps of Engineers to start over and re-examine whether the Clean Water Act extends to non-navigable waters — the Waters of the United States (WOTUS) issue. The order contains language mandating "due regard for the roles of the Congress and the States under the Constitution." WOTUS is a much-loathed rule that most agree has been destined for the dung heap in its original guise. Congress has already moved to rescind it. The stream of Executive Orders, which began in previous administrations, appears unending in its flow.
President Trump has selected leaders for EPA and the Departments of Interior and Energy that indicate his themes of decreasing rules and the Federal reach. Scott Pruitt is fairly familiar with EPA as a result of suing the agency so often. He is unlikely to roll back statutorily mandated environmental regulations very far. But there are other ways to skin that cat: Reductions in force by 20% have been announced in White House spending plans, along with reductions in grant programs up to 30%. Grant reductions could impact states that have delegated authority for major programs. Now confirmed by the Senate, Administrator Pruitt has said that core water and air programs, like CERCLA, will remain an EPA priority. He is concerned about proposed cuts to grants for various revolving funds and grants for infrastructure. Drinking water might actually be improved if the President's plans to invest "bigly" in infrastructure are realized. Flint's well-publicized water quality problems (and those decades earlier in Tucson) were mostly the result of deteriorating pipes as opposed to contaminated water sources.
Ryan Zinke, a geologist now confirmed as the Secretary of the Interior, has long been adamantly opposed to transfers of Federal lands to state control. He has also actively pursued rollbacks of proposed stream regulations impacting hydroelectric power plants and mining operations. But he has an appreciation for Western water rights issues as seen in the Blackfeet Water Compact. Understanding the role of the Bureau of Reclamation could help negotiations on the Colorado River, where the Drought Contingency Plan is currently stalled. And Zinke demonstrated his command skills in the Navy Seals program and therefore can effectively manage the disparate parts of Interior. He will have his hands full; the cuts rumored for Interior could go as high as 24%.
In 2012, Governor Rick Perry had trouble remembering that the Department of Energy was on his list to be eliminated; now he heads that agency. President Trump has said he wants to kill the Clean Power Plan left over from the last administration and restore mining jobs. While Rick Perry might be happy to help, the economics of cheap natural gas due to fracturing techniques will likely not bring uneconomical fuels back.
In Congress, members of the Arizona delegation have seats on several sub-committees related to water. Senator Jeff Flake now chairs the Energy and Natural Resources Subcommittee for Water and Power and sits on the Energy and Public Lands, Forest, Mining Subcommittees. Paul Gosar (R) sits on the House Natural Resources: Water and Power Subcommittee; so do Democrats Ruben Gallego and Raul Grijalva. Proportionally this is a bigger voice in water issues than many other states enjoy. They will be shaping changes to environmental and sustainability laws in the Trump administration.