— Alan Dulaney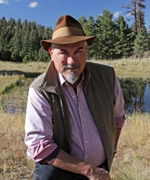 The last stop for any bill coming out of the Legislature is the Governor's desk. In May, a number of bills exited the Legislature and landed on the Governor's desk for his approval or veto. Many were closely followed and controversial water-related bills.
Governor Ducey signed HB 2316 and made the registration process for geologists a voluntary process. A tremendous effort was made by several individuals and organizations to stop this bill and preserve the authority of the Board of Technical Registration. Their energy and commitment was admirable but, in the end, it was not enough to kill the bill. However, compromise language partially ameliorates the impact. The law now recognizes the term "trained geologist" — someone with a 4-year degree in geology from an accredited university, experience, and no felony convictions. Taking the tests and being subject to the review authority of the Board of Technical Registration is now a choice that geologists must make. This bill came out of the Governor's office, as part of his drive to reduce licensing requirements in Arizona; it was a foregone conclusion that he would sign it once it hit his desk. I believe that it is inevitable that unforeseen consequences will result from its passage, but we must await future events to evaluate its overall effects.
On a sad note, the Arizona Geological Survey was moved under the aegis of the University of Arizona as the result of the budget bill, SB 1500, which the Governor signed. Its funding must now come through the Board of Regents, and all grants will be subject to a steep administrative overhead percentage. Several staff members have left, and layoffs may soon occur. This will severely curtail the activities of the Arizona Geological Survey, including the mapping of fissures caused by land subsidence, which in turned is caused by overpumping. And, in a few years, farmers with no access to CAP water will be turning their pumps back on, and several municipal providers may also be withdrawing more from their wells. There will be unintended consequences to this action as well.
Putting a little shine back on his halo, Governor Ducey got out the veto stamp for SB 1268 and SB 1400. These two bills would have seriously weakened local authority to apply provisions of the Water Adequacy Program to rural Arizona. Both came out of Cochise County and were backed by developers. Usually developer support greases the skids for any bill but, in this case, support for the veto was massive across many sectors. Governor Ducey recognizes the importance of water to economic growth and seems determined to address water issues to protect the future. His veto trumped the shortsighted desire of a few to sweep away impediments to building subdivisions without any concern for overstretched water supplies. This can only be good for the state as a whole. Now Arizona can continue to negotiate with California and Nevada and the Federal government on Colorado River issues (the deal I wrote about last month) without any fingers being pointed at weakened water management programs.
HB 2666 brought the Water Infrastructure Finance Authority (WIFA) under a new Arizona Finance Authority with several other formerly independent state financing entities; however, compromise language retained the WIFA board of directors as a technical advisory group. WIFA is a vital source of funding for cities and counties around the state and needs the specialized abilities of the board members. This bill also came from the Governor's office. HB 2325 was a technical adjustment to water quality standards to conform to new EPA rules, including lead content in pipes. The Governor also signed this bill. SB 1191 expanded the use of the Arizona Water Protection Fund and removed the cap on use of the money for conservation purposes. Governor Ducey also signed this bill. And, during contentious budget negotiations (when aren't they contentious?), funding for ADWR was not cut and ADEQ may get more funding next fiscal year. Hope springs eternal.