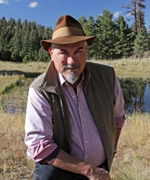 —Alan Dulaney
Lightning flashes and the rumbles and booms of thunder comprise the usual picture we have of late summer storms. However, this year they are being replicated in meetings across Arizona. It hasn't been quiet this summer.
In June, Governor Ducey convened state water leaders in a discussion of issues facing Arizona. The Governor wants one voice speaking for us. Working groups were formed for groundwater and Colorado River issues in an effort to develop consensus that will lead to legislation for the 2018 session. The Groundwater group is examining the metering and reporting of well withdrawals outside the AMAs, causing some rumblings among agricultural interests. Another major topic, repealing the 2025 sunset provision for recharging reclaimed water, is a lightning rod for cities.
The Colorado River group is looking at 17 specific issues, with five as high-priority items: the Lower Basin Drought Contingency Plan, DCP Plus, tribal Intentionally Created Surplus on Lake Mead, management of CAP excess water, and ongoing system conservation programs. ADWR and CAWCD are adamantly opposed to each other's positions on almost all issues, and this has become the major dynamic in the process. Some of this storm is now making its way into the media. The Governor has set a deadline of December 2017 for resolution and draft legislation.
Under the new System Use Agreement, groundwater from a variety of basins is expected to be wheeled through the CAP canal, along with Salt River Project water. Each source will have a distinct chemical composition that may alter the chemistry of Colorado River water flowing through the canal. Many treatment plants can handle only a narrow range of chemistry based on Colorado River parameters. Tucson recharges CAP water as its treatment process and wants standards that do not degrade CAP water quality. Other cities looking to wheel water have plants that can treat for arsenic, nitrate, and other constituents that are not removed by soil treatment. To address these issues, a Water Quality Standards Task Force set up by CAWCD is seeking stakeholder proposals and SRP has presented a mixing model that shows how initial chemistry is affected by adding different water sources to the canal. Several water providers from the three-county CAWCD service area have developed a near-consensus draft proposal after some meetings with occasional flashes of lightning.
Thunderstorms provide cooling rains. If you wish to enjoy the lower temperatures and scenic beauty of northern Arizona for a few extra days before our upcoming Annual Symposium (still plenty of room for walk-ins!), check out the fun activities in Flagstaff over the Labor Day weekend at the Coconino County Fair.