The AHS Foundation (AHSF), a 501(c)(3) nonprofit organization, was established in 2006 to provide long-term assured funding for AHS's intern scholarship, academic scholarship, science fair, and teacher programs. Specifically, the AHSF is responsible for raising and distributing the funds that support these programs.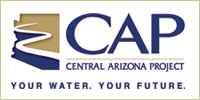 The AHSF recently received a Community Investment Grant from the Central Arizona Project (CAP) for the 14th consecutive year. The grant, which totals $2,900, represents an increase of $500 over the amounts awarded for the past 3 years — bringing CAP's total contribution to AHS programs to $26,600!
This funding is critical to achieving our mission of promoting "public understanding, education, and training in the science and technology of hydrology and water resources." Thanks in large part to CAP's generosity, we have been able to support this goal across all educational levels, from grade school to graduate school. This year, the CAP grant will fund the following initiatives:
These initiatives impact our community in a positive way. The internship programs provide value because they give students a unique opportunity to work in multiple hydrological environments; these experiences have the potential to help shape career paths. They also allow employers to try out potential employees. The science fairs promote mentorship between water professionals and students. Finally, the symposium scholarship program supports students who want to attend AHS's premier annual event and gain valuable exposure to career paths and real-world projects.
The AHSF looks forward to working with the CAP's community outreach staff, who administer the grant program, to reach our common audiences with a consistent message for managing and sustaining Arizona's precious water resources. Central to this message is helping consumers understand where their water comes from and how it is treated and delivered to home taps. We appreciate not only CAP's support of our programs but also its investment in our mutual goal to ensure Arizona's sustainable water future.