Information About Tucson Chapter Meetings
Join Julia Fonseca and Dr. Karletta Chief for a presentation on the possibility of developing a new ethic or set of guiding principles that could apply to the field of water management.
Add to Calendar
01/09/2018 6:00 PM
01/09/2018 8:00 PM
America/Phoenix
Monthly Chapter Meeting
Talk by Julia Fonseca
Montgomery & Associates, 1550 E Prince Rd
AHS
info@azhydrosoc.org
false
MM/DD/YYYY
aCbNEBoyjzczlVRWJmYU12971
Date: January 9
Time: Social half hour at 6:00 pm; presentation at 6:30 pm
Place: Montgomery & Associates, 1550 E Prince Rd [MAP]
Cost: Free; drinks and snacks provided
Abstract: If Water is So Important, What are our Responsibilities?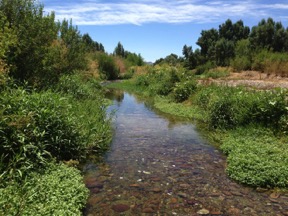 As hydrologists, AHS members work with the most precious resource on earth: fresh water. So what, if any, are our professional responsibilities for the care of water resources? This presentation will afford an opportunity to hear and be heard on this important topic.
To start the discussion, Julia Fonseca, environmental planning manager at Pima County, will provide an historical perspective on how other professional groups have addressed or tried to provide a philosophical framework for resource care. Dr. Karletta Chief will share a perspective from the Diné (Navajo) culture as well as her role as assistant professor at the UA.
Speakers: Julia Fonseca, Pima County / Dr. Karletta Chief, UA
Julia Fonseca has worked on land and water issues in southern Arizona for 30 years, first as a hydrologist with Pima County Flood Control District on groundwater recharge projects, and later in the Office of Sustainability and Conservation at Pima County, where she now oversees portions of the Sonoran Desert Conservation Plan.
Dr. Chief is an assistant professor and extension specialist in soil, water and environmental science at UA. She conducts research on unsaturated flow in arid environments. Her research also focuses on how indigenous communities will be affected by climate change. Dr. Chief is Diné originally from Black Mesa and received a M.S. in civil and environmental engineering from Stanford University in 2000..
Looking Ahead
February 13:  "Analysis of the 2017 Atlantic Hurricane Season" by Thomas Galarneau and Xubin Zeng, Department of Hydrology and Atmospheric Sciences, UA.
March 13: Chuck Graf, Principal Hydrogeologist at ADEQ's Southern Regional Office, will give a presentation on emerging contaminants.
News from the Tucson Chapter